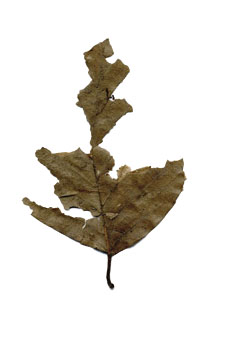 een vruchtbare wandeling (1975)
ben het bos ingegaan om wat te denken,
vergat echter te denken en
vond het niet nodig hieraan enige konklusie te verbinden.
eine fruchtbare wanderung (1975)
bin in den wald gegangen um zu denken,
vergass aber zu denken und
fand es nicht nötig daran irendeine schlussfolgerung zu knüpfen.
audio text
Player not supported? Start another player here
The spoken text is recorded by Rainer Pließ for Master Peace Records, Sulzheim - November 2004 and added to herman de vries : les livres et les publications; catalogue raisonné / textes de herman de vries, Anne Moeglin-Delcroix, Didier Mathieu (Centre des livres d'artistes : Saint-Yrieix-la-Perche 2005).
bibliographic references
herman de vries, 'een vruchtbare wandeling = eine fruchtbare wanderung', in herman de vries, asiatische & eschenauer texte (artists press : bern 1975). Reprinted in to be : texte - textarbeiten - textbilder (Stuttgart 1995) 80.
IMAGE CREDITS
collected öllarn 22.08.2011 (160 × 200 mm)
from fragments - collected in the nördlicher steigerwald - eschenau (Peter Foolen Editions : Eindhoven 2011)
special edition, with enclosed an oak leaf from Eschenau on cardboard
photo Bruno Schneyer, Zeil am Main
© herman de vries