magazines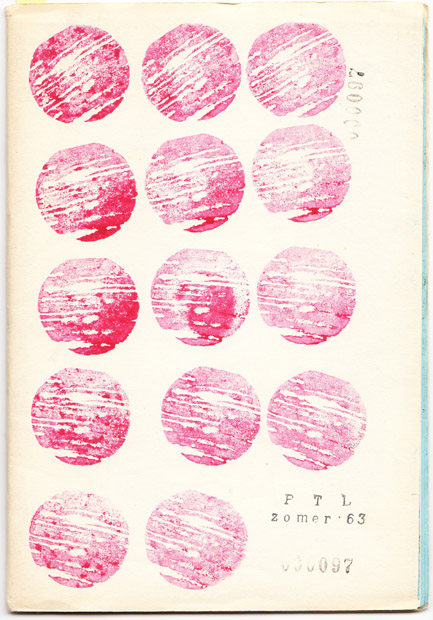 PTL
(zomernummer 1963 [= Summer 1963])
tijdschrift voor letteren en schoone kunsten, opgerigt Anno 1963 te Arnhem
editors: Laurens D. Vancrevel [= Dirk van Krevelen] and Herman de Vries
M.J. Israël : Arnhem 1963
stencilled sheets stapled into original wrapper
p. (21 × 15 cm)
edition unknown
contents
• Peter Iden (Frankfurt), Over de werkelijkheid
• Gerhard Hederik (Oegstgeest), Twee gedichten
• Dick Verzijden (BUssum), Merkwaardige gevolgen van een dwaze handeling
• Freddy De Vree (Antwerpen), Karin (Gedichten)
• Raymond Soriano (Parijs), Synfilmie
• Gerbrand Muller (Leiden), Drie gedichten
• Hans Mils (Naarden), Regels voor het nieuwe dichten
• J.J. Tablada (Mexico), Watermeloen (Vert.)
• Alex van Caspel (Leiden), Gedicht
• Bekiers, A. (---), De plicht van den detective
• Herman de Vries (Arnhem), Regen (Gedicht)
• Stanley Brouwn (Amsterdam), Berekening
• Jacob Cats (Zorghvliet), De hoere klaagt
• Laurens D. Vancrevel (Arnhem), De Koorden
• Sally Stern (U.S.A.), Gedicht (vert.)
• Laurens D. Vancrecel, Er gaat iets leven in Suriname.
PTL
(herfstnummer 1963 [= Autumn 1963])
tijdschrift voor letteren en schoone kunsten, opgerigt Anno 1963 te Arnhem
editors: Laurens D. Vancrevel [= Dirk van Krevelen] and Herman de Vries
M.J. Israël : Arnhem 1963
stencilled sheets stapled into original wrapper
p. (21 × 15 cm)
edition unknown
this number was published with different covers.
contents
• j. jan cremer, voorwoord (cit. 1857)
• j.c. van schagen (domburg), aftelversjes
• freddy de vree (antwerpen), karin
• --, gemengde berichten
• hans mils (naarden), regels 5 en 6 voor het nieuwe dichten (omissie)
• herman de vries (arnhem), 2 gedichten
• manuel othón (vertaling), idilio salvaje
• ben jansen (amsterdam), kunst en vrijheid
• dietrich sauerbier (düsseldorf), material (met vertaling)
• laurens vancrevel (arnhem), libra
• mestrovic (vertaling), linguaggio
• peter berger (den haag), 2 gedichten
• léon felipe (vertaling), de film en de dichter
• rudi fuchs (leiden), de dood van norma jane
• --, advertentiepagina
illustrations
herfstbrouwn, stanley brown (amsterdam), h. de vries (arnhem)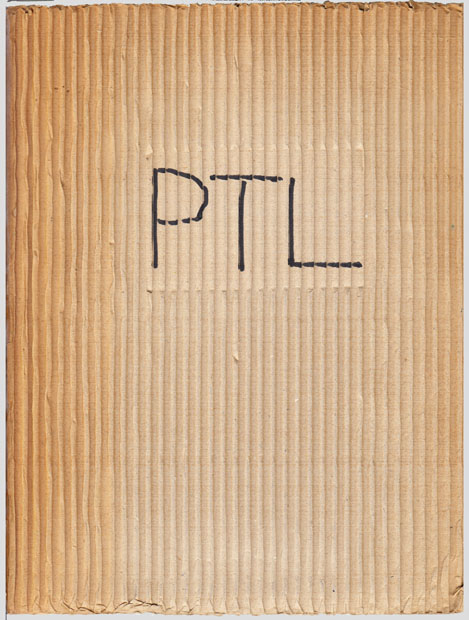 PTL
n° 3 (winternummer 1964) [- n° 4 (lentenummer 1964)]
editors: Laurens D. Vancrevel and Victor C. Adèr Laudy; n° 4: herman de vries and Laurens D. Vancrevel
M.J. Israël : Arnhem 1964
stencilled sheets stapled into original wrapper
pp. 81-136 and pp. 137-150 (29.7 × 21 cm)
edition 150 (but also numbers known beyond 150)
contents n° 3
• Her de Vries (Amsterdam), Surrelistisch Bestek (81)
• Surrealisme twintig maal nageslagen (82)
• Clovis (496), Ma Langue salle et franche (83)
• antwoorden van Simon Vinkenoog/S. Vestdijk/J.C. van Schagen/Chr. J. van Geel/Harry Mulisch/E.A. van Caspel/Peter Berger op een enquete (84)
• H.C. Doets (Amsterdam), Paradoksen (90)
• Axel van Caspel (Leiden), Some Loose Ends of Literature (94)
• L.D. Vancrevel (Arnhem), De Dood is een Masker (95)
• Hans Mils (Naarden), twee Gedichten voor Wanja (102)
• Dirk Claus (Antwerpen), Gedicht (102)
• Axel van Caspel (leiden), Twee Gedichten (103)
• "Kruiden van Tarahumara" van Alfonso Reyes in vertaling (103)
• Ben Jansen/L.D. Vancrevel/Her de Vries, Brieven over Film (106)
• Pélerinage du Monument Michaux (105)
• V.C. Adèr Laudy (Maastricht), Vers geurende Lijken (133)
• L.D. Vancrevel (Arnhem), Les Jeux Bouchés de Jérôme Bosch (134)
• --, "Si syn met atramente ghescreven, dat is mnet loste vleeschs ende bloets, ende met verkeerder ertscher neyghingen" - Jan van Ruusbroec (135)
[NB Her de Vries is not the same as herman de vries!!]
contents n° 4
• Anais Nin (Los Angeles), Een kind geboren uit de mist (vert.) (76 [?])
• Freddy De Vree (Antwerpen), Max Kazan (137)
• Max Kazan (Balen-Neet), Gedichten (139)
• Walter Aue (Leichlingen), Tajiri (141)
• Fernando De Nadal (Den Haag), La Soledad (142)
• Gerbrand Muller (Leiden), Straat (144)
• J.C. van Schagen (Domburg), Aftelvers (144)
• "Register Elementar" van Kurt Schwitters vertaald (144)
• Dietrich Sauerbier (Düsseldorf), Havarie (147)
• Gerard Heederik (Oegstgeest), Enquête (150)
• Saint-Amant (1594-1661), De Leegloper, vert. (150)
illustrations n° 3-4
• Victor C. Adèr-Laudy, Belles Lettres (79)
• J.H. Moesman (Utrecht), tekening (85)
• L.D. Vancrevel, Kriptografie (91)
• Jan Schlechter (Otuumwa IO), tekening ([?])
• Mirjam/Mark/Merik [de Vries], tekening (145)
• Herman de Vries (Arnhem), collage (149)
• Ben Jansen (Amsterdam), Twee Vreemden (111)
• "Or esbaudissez vous, mes amours [...] " - Françoys Rabelais (1535)
• ((esb., z. vermaken/vietz d., ezelskoppen/ [...]))
PTL
(n° 5 (zomernummer 1964 [= Summer 1964])
editors: Laurens D. Vancrevel and Herman de Vries
M.J. Israël : Arnhem 1964
p. (29.7 × 21 cm)
edition 150 copies
contents
• Sjeik Nefzawi / Diverse benamingen (151)
• Medewerrkers aan de eertse serie PTL (155)
• De Hollandse Gîtâ door de Werker van het Licht (156)
• Leven en Dood van de Vuurduivel, van Antonin Artaud, vertaling (160)
• Victor C. Adèr-Laudy / Kama Sutra, een Ars Lucrandi (161)
• Peter Berger / Uit de Pilderwochiaanse Brieven van Meester Iwan (163)
• Peter Berger / Gedichten van Pilderwoch (165)
• Popol Vuh - De Geschiedenis van [..] meisje (166)
• Jan Schlechter / Tekening (169)
• J.C. van Schagen / Twee aftelliedjes (171)
• Herman de Vriers / Notities (172)
• Adri Laan / Het denken is een wonder (172)
• Gerard Heederik / Vijf teksten (173)
• L.D. Vancrevel / Tweern (174)
• Fernando de Nadal / Zonder datum (175)
• Peter Berger / Gedichten uit 58 (176)
• Freddy De Vree / uit: Jolie Morte (177)
• Sikke Jan [= Jaap] Laverman / Monotype (181)
• Dietrich Sauerbier / Observatorium (183)
• Hans Mils / Kan een meisje ... (184)
• André van Heler / Twee Blazoenen van het vrouwelijk lichaam (186)
• Rien Maat / Kraaien (188)
• Dick Verzijden / Een verhaal over oude mensen die voorbij gaan (188)
• Gerbrand Muller / Fragmenten (190)
• Sjeik Nefzawi / De koele dochter van de koning (191)
• L.D. Vancrevel / Notities uit de Aanhef (194)
• D.A.F. de Sade / Brieven aan de Markiezin (194)
bibliographic references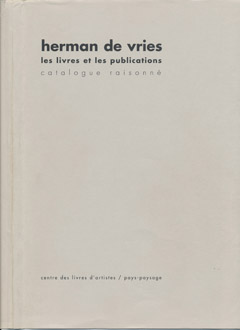 herman de vries
les livres et les publications. catalogue raisonné
textes de herman de vries, Anne Moeglin-Delcroix, Didier Mathieu
centre des livres d'artistes
Saint-Yrieix-la-Perche 2005
Click here for a supplement for the years 2004-2012
---